This is actually my first NA review as well as novella review. It's also my first blog tour and author interview! This is so exciting for me!!! I don't think I could have picked a better story to do this with though; I really enjoyed this novella so much.
About the Book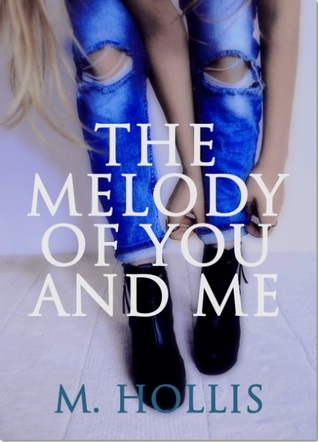 Author: M. Hollis
Publisher: Self-Published
Publication Date: September 29, 2016
Genre(s): New Adult, Contemporary, Romance, LGBT+
Page Number: 82
After dropping out of university and breaking up with her girlfriend of three years, Chris Morrison's life is now a mind-numbing mess. She doubts that working at the small neighborhood bookstore is going to change that. The rest of her time is spent mostly playing guitar and ignoring the many messages her mother keeps sending her about going back to college.
But one day, an adorable and charming new bookseller waltzes her way into Chris's life. Josie Navarro is sweet, flirty, and she always has a new book in her hands. The two girls start a fast friendship that, for Chris, holds the promise of something more. But is she reading too much into this or is it possible that Josie feels the same way?
The characters were all really relatable, especially Josie. I'm a ballerina and Filipino too, and I enjoyed reading about her performances. I loved how the characters were well balanced. Josie was really sweet but had a wild side. Chris on the other hand, was "a little bit more out there," but also had a really sensitive and almost hesitant side. Also as an avid reader who loves hanging out in bookstores, it was nice to read with the majority of her scenes in that setting. My one potential issue was the point of view. This novella was written in third person present tense, which sometimes made the flow a little bit weird, but otherwise I loved everything else. Now, enough about my rambling, here's the author herself!
What inspires you to write? Why did you decide to become an author?
Reading and watching good stories makes me feel inspired to do something of my own. Since I was very young I always loved creating stories in my head and I used to daydream about worlds that didn't exist. I don't think I had a moment where I decided to be an author, it's just a need that I had inside of me all the time. Writing makes me feel so happy and I like to share these ideas with other people. The difference is that before this novella I only saw myself as an aspiring writer. Until other authors who I admire a lot called me a writer one day and I was like… Oh, why am I not calling myself a writer just because I'm not published yet? We need to believe in our dreams and in ourselves more often to make things happen. Writers are so often discouraged to go follow their dreams that we sometimes think it'll never be possible. But it is possible. We just need to try and find the right support to keep you going.
Something that only later I understood was this mighty need to see myself in stories. When I was a kid and I'd watch something or read a book I'd invent a character in my head. I wrote my first book when I was 12 where I just created a whole new magic world with a female Harry Potter, and the story was set in my city. Today I know I was just creating some kind of fanfiction, but this was just a fun thing I did to pass the time. I didn't see enough female characters in most media as the protagonists so I made my own stories.
I want to write stories where everyone can see themselves. And maybe inspire authors to write their own stories someday.
What was your inspiration for this book? Are any of your passions reflected in these characters?
This book project started because I wanted to write a cheesy F/F love story. I was in the middle of editing my YA Brazilian manuscript and my friends who don't understand Portuguese kept asking me to read my stuff. I sat down a week and wrote the first rough draft to see what I could come with. It was so fun and just what I needed at the time.
There are so many stories about how sad and miserable LGBT people are and I want to write books where we can just be happy. I'm glad that lately, we have many authors bringing this kind of stories, and I think we'll never have enough of them.
My passions are always defining my stories, definitely. All my characters have a little bit of me in them. I like to think that I put all of them into a little box, mix many different personalities from people I know and then when I open the box again these amazing characters come out of it. Chris has my love for music, Josie my love for books, and Lily and I have the same grumpy personality.
Do you have any plans for additional novels or novellas? Can you share an excerpt from anything?
Yes! I am writing the first draft of the sequel of The Melody of You and Me. I can't share any excerpt so soon into my process, but I can tell what it is about. Lily is our next protagonist and we'll see how things are for everyone a year after the first novella. I plan to write four different F/F love stories set in the same universe. All of them are really distinct from each other but sweet and fun to read.
I noticed that you mentioned some contemporary authors in Josie's book collection. Who are some of your favorite authors?
Tess Sharpe, Libba Bray, Marie Lu, GL Tomas, Siera Maley, and Ella Lyons.
What is your writing process like? Do you outline first or create characters first?
I outline and create characters at the same time. Usually, I take a day to outline everything in a story. It's not hard for me to come up with the initial plot because it's always when I have the most fun. My characters are the heart of my story, I can't think about the plot without having them always very real into the process.
Then I go to the long writing process. First I write a rough draft with no stops for edits where I just throw all the scenes into the file without caring about how messy they are. After that, I rewrite word by word. Once I read it and feel that the story is good enough I start to look for beta readers to give me feedback. We go back and forth many times until we are all satisfied with a final product.
What is a typical day for you like?
I'm the most boring person ever, to be honest. I just stay at home reading, writing and editing many things at the same time.
Why did you decide to make this a novella rather than a novel?
Because at first, I was writing this just to have fun and share a nice F/F story with my friends. This is my first original work in English and I wasn't sure if people would actually like it. I'm Brazilian so everything I write is in Portuguese, except my fanfiction that I usually write in English.
A novel would take me years and years. A novella is shorter and more of what I like to write. I'm used to this size of plot and work. My stories are always fast paced and simple because I don't like when a book keeps going around in circles. It's something I need to work with in my writing so that I can work with bigger stories in the future.
I'm a big Josie fan, so I have to ask. Is there anything about her that got cut out of the story?
That makes me so happy! Josie is such a sweet character. I wrote her inspired by my friend Sue, who is also Filipino. We met through our love for books and I really wanted to honor our friendship here in my first story.
Nothing was really cut in this novella. I wanted to make sure that everything from my original idea was there on the page. But I can share a little bit of extra info! She is only going to be working at Johnson's bookstore for more one or two months because she is going to start an internship at Lillac U in her next semester. I thought about adding this in the last chapters, but there was a lot going on for her already at the moment.
How do you come up with character names?
Sometimes the name just comes to my mind right away. But usually, I research many baby name sites and test different ones until I find the name that matches the character perfectly.
What is your opinion on NA LGBTQ+ representation today? What can we do to help improve it?
I think New Adult is still far from being good at LGBTQ+ representation. Unfortunately, I still have a feeling that not all identities have the same space in the market and for readers. There is a hard acceptance of F/F books that hurts my heart. I've talked with writers that feel honestly scared to write books about girls who like girls because it won't sell as well as M/M or M/F. We need to work on that and readers need to give a chance to F/F stories. There is also the fact that so much of M/M is being written by cishet women and own voices by male writers don't get the same attention as these. Something we all have to work in being better at when we read and support these books. I have so much to say about the prejudice some parts of the LGBT community face in the book community but I don't want to extend myself here too much. Haha.
Readers need to share their love for these books. They need to really hype books with LGBT characters and written by LGBT authors. Authors need to support each other and bring these books to the forefront, this way readers will be able to find them. Because they exist, but people don't know about them or they don't care enough to buy them and recommend them. I've met so many amazing authors lately that are supporting me in my journey and I wouldn't be publishing this novella without them. The Twitter community is amazing and does such a good work to share our stories and voices; I couldn't be more thankful for that.
About the Author
M. Hollis could never decide what to do with her life. From the time she was a child, she has changed her ideas for a career hundreds of times. After writing in hidden notebooks during classes and daydreaming during every spare moment of her day, she decided to fully dedicate herself to her stories. When she isn't scrolling around her social media accounts or reading lots of femslash fanfiction, you'll find her crying about female characters and baking cookies.