Today's Top Ten Tuesday topic is something to do with a holiday gift guide. As I've said before (and I'll say it again), WE NEED DIVERSE BOOKS! Thus, today's guide is a list consisting only of diverse books that I've read this year and loved. You know the usual: they're in no particular order. The books that I've reviews should have their links in the descriptions. Random PS.: I've just recieved 100 likes on this blog! What? I know that doesn't seem like a big number to most, but I'm still in awe. Thanks guys!!!
The Six of Crows Duology by Leigh Bardugo
This duology is one of my favorite reads this year, and also one of the most diverse. It includes an LGBBTQ+ couple (whom I ship with all my heart and make me smile just thinking about them), two PoC main characters, main characters suffering from PTSD, and a main character actively working to overcome internalized racism. The stories are simply amazing, and just ahhhh!!! You can read my full on fangirling in my Six of Crows review and my Crooked Kingdom review.
Simon vs. the Homo Sapiens Agenda by Becky Albertalli
I've talked about this book before but IT IS SO IMPORTANT! The messages in this book and the number of impactful quotes are just amazing. For example, "Everyone should have to declare one way or another, and it should be this big awkward thing whether you're straight, gay, bi, or whatever." This book is extremely relatable, and I'm just in awe of Becky Albertalli's writing. I can't wait for her next book, The Upside of Unrequited! In the meantime, you can read my full review here.
The Star-Touched Queen by Roshani Chokshi
This fabulous debut novel by Roshani Chokshi was published earlier this year, although I only read this a few weeks ago. I seriously don't know why I waited. This novel was just so beautifully written, and the writing was extremely lush. I fell in love with this book in just a few chapters. Her next book, A Crown of Wishes, comes out next year, and we're also going to get three more novels focusing on the couple in this book. The Indian mythology just meshed with Roshani's own story so well. Review to come sometime in the next month (hopefully).
More Happy Than Not by Adam Silvera
This book was another recent read, and yet another book that I know I should not have been putting off. Unlike Becky Albertalli's book which is very important and has serious material but is lighthearted at its core, Adam Silvera's debut novel is very raw and gritty. It is unflinchingly honest, and it makes you really stop and think. There were some very real questions raised, and this book is definitely another must-read for all, teens especially. I'm still trying to gather my thoughts, so review to come late December probably. But seriously, you need to go read it ASAP!
The Wrath and the Dawn Duology by Renee Ahdieh
I read this duology in about two days, back to back. Here is yet another lush and beautifully written story. These books are a retelling of the classic Arabian Nights. There is so much that I love in Renee Ahdieh's stories, especially the main characters Shazi and Khalid. Read my individual reviews of The Wrath and the Dawn and the Love and Loss: The Rose and the Dagger here as well as the joint review: Arabian Nights: The Wrath and the Dawn Duology.
Of Fire and Stars by Audrey Coulthurst
I literally just finished this book less than a week ago, but it's already definitely high up there on my lists. In fact, I actually bought a copy for my friend as part of her birthday present. I'm a huge fan of books to do with princesses and/or magic, and this book had both! I also loved that the princess fell in love with the prince's sister, which a twist on the usual trope. PS. I love how beautiful the cover is! Review to come.
Magnus Chase and the Gods of Asgard: The Hammer of Thor by Rick Riordan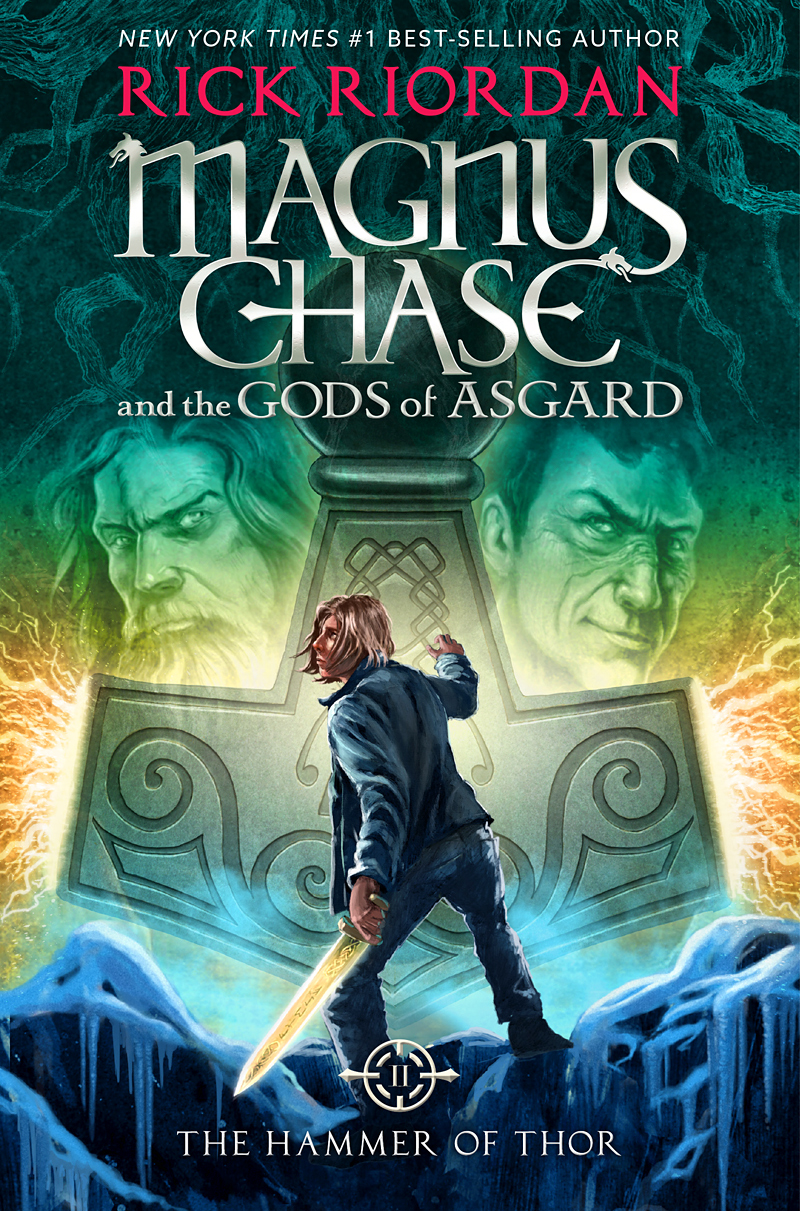 I will be the first person to you that I knew literally nothing about Norse mythology before reading these books. I also learned probably at least 50% of my Greek, Roman, and Egytian mythology from Rick Riordan's books, and I'm obsessed. The Magnus Chase books have honestly taught me so much about Norse mythology, but even more importantly, they have a wonderful cast of characters. There is a genderfluid main character introduced in this book, and Alex is honestly probably one of my favorite people in this whole series. There is also a Muslim main character, Samirah al-Abbas, as well as a deaf and mute main character, Hearthstone, who is an elf. This book was even better than the previous one, and I'm super scared but super excited for the last book in the series!
Everything, Everything by Nicola Yoon
I pushed this boook up on my TBR list when I realized I was going to be meeting Nicola Yoon, back in September. I'm so glad I did. Although this book was short, it was a very cute book, and I loved the format. The main character of this book, Maddie, is biracial, which in my opinion is very uncommon is YA literature. Maybe I'm just reading the wrong books?  Everything, Everything is getting a movie August of next year, and I'll definitely be watching that. Nicola Yoon also has a new book out right now, titled The Sun is Also a Star, which I'll be reading soon. In the meantime, you can read my Everything, Everything review.
The Song of Achilles by Madeline Miller
Again, this is one of my all-time favorite books this year. I've been hearing about it for years, but I only picked it up this summer. I can't believe I didn't read it sooner!!!! If you don't know, this book is a retelling of the legend of Achilles. There's a twist though: it's told from the perspective of his companion, Patroclus, who in this story is much more than just that. If you're familiar with the full legend, you'll know how it ends, which actually just makes the whole book more captivating and heartbreaking at the same time. You can read all my fangirling here: How to Rip My Heart into A Million Pieces: The Song of Achilles.
The Young Elites Trilogy by Marie Lu
Marie Lu holds a special place in my heart because besides Rick Riordan, she is only author on here that I'd read prior to this year. (I know! Crazy!) I've actually been a fan of hers for many years, starting way back when with her Legend series. This book centers around a villain, and it tells her origin story. What's interesting about this is that unlike most origin stories, we don't know how her story will end. So we're left guessing (and crying by the end of The Midnight Star). Adelina is probably my favorite villain of all time, and there's something about her that is just so compelling. I read The Midnight Star the day it came out, but I've needed to process my feelings, so review to come soon. In the meantime, you can read my The Young Elites review and my The Rose Society review.
So that's today's Top Ten Tuesday! I apologize for the late time, but I was stuck at the theatre the whole day with no Wifi. What diverse books do you recommend? Comment below because I'm always looking for more diverse reads!