I have attempted to set this to post at exactly on October 26 at 1:26 a.m. Given that WordPress is a bit funky with scheduling posts, I don't know if that will happen, but I am hoping that it will post at that time since that is the exact moment of my birth. Fun fact: for years my dad thought my birthday was on the 25th because I was due on that day. However, I was a stubborn little child and didn't come out until the 26th in the early morning. Anyway, I've seen this floating around the blogosphere and decided to do it in celebration!
Count your birthday along your bookshelf and then subtract your birth month.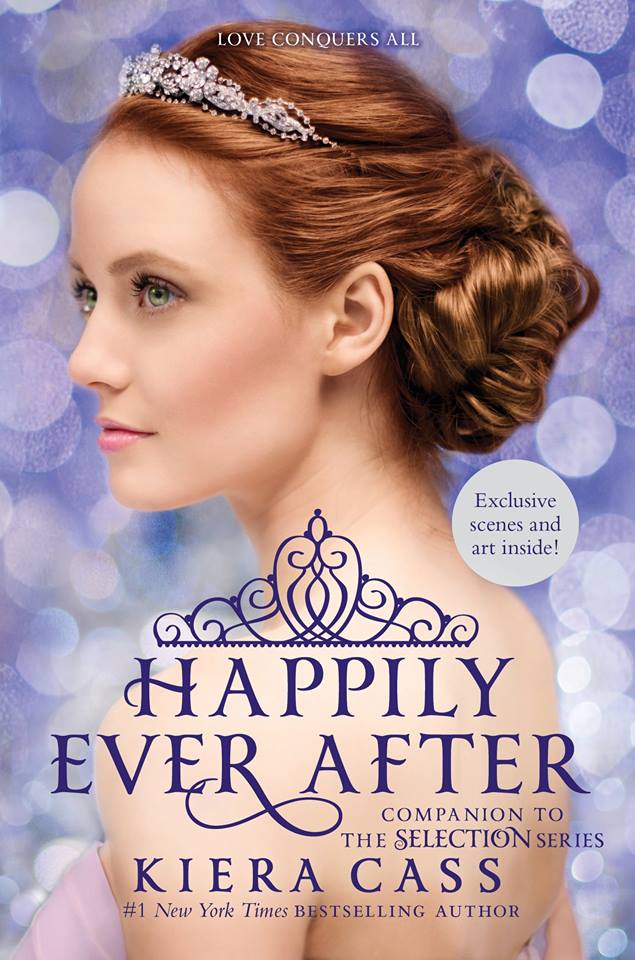 Happily Ever After by Kiera Cass
It's actually kind of interesting because due to the instructions, this book is sixteenth on my shelf and I'm sixteen and…Sorry don't mind me, I look for lucky signs in everything. I'm a very superstitious person. For example, I think that this book means I'm destined for a happy ending! This is a collection of stories meant to wrap up the story of America Singer, and reading it made me really happy. It not only includes America's prologues but novellas from the other characters' points of view!
If you could spend your birthday with any fictional character who would it be and why?
Six of Crows by Leigh Bardugo
This question is really hard and I really don't appreciate having to do such hard work so close to my birthday. (I hope you know I was kidding. But seriously, this question was tough.) There are so many fabulous people I would want to spend my birthday with, but at this very moment, I'm going to say Nina Zenik. She seems to have such a good connection with Inej and they definitely seem to have a lot of fun together! I think Nina would definitely know how to throw a great party, although I'd definitely be game for just a plate of waffles!
Find a book that takes place in the season you were born in.
City of Fallen Angels by Cassandra Clare
I'm sure there are lots of books that take place in the fall, but this book was on my mind since I just reread the entire series this weekend (for like the fifth time this year). Also, this book explicitly states that it takes place in October, so even the months match! I also want to state for the record that I actually much prefer the new covers, like the one with Isabelle on the cover of this one for example. However, the colors and vibe of this one seemed to match the darker, more fallish tone, so here you are!
Find a book that is the color of your birthstone.
I would like to pass this one because I honestly don't really know what to pick. First of all, I actually have two birthstones: opal and tourmaline. I associate more strongly with opal. Okay, that sounded kind of weird, but I just mean that for some reason I've always liked opal better. Anyway, opal has no particular color and its name actually stems from this fact. On the other hand, there are so many different types of tourmaline, all with different colors. So really, any book is the color of my birthstone.
Pick a book set in a time period, world, or country you would have liked to have been born in.
Harry Potter by J.K. Rowling
Again, what's up with the hard questions? It was really hard for me to choose, but I decided on Harry Potter's world. I mean, magic! I think one of the best things about the Harry Potter brand of magic is that you're not limited to a certain affinity or power. Anyone can do any type of magic if they have the knowledge and are capable enough, which I think is not so common with most magic. Also, I know that Harry doesn't really go to London much in comparison to the rest of the story, but I went to London and fell in love with it over the summer, so that's an added bonus for me!
I'm not going to tag anyone in particular, but if your birthday is coming up, I do invite you to complete this book tag!